translation missing: en.products.product.price.regular_price
translation missing: en.products.product.price.regular_price
$50.00
translation missing: en.products.product.price.regular_price
translation missing: en.products.product.price.sale_price
$50.00
translation missing: en.products.product.price.unit_price
translation missing: en.accessibility.unit_price_separator
Coming Soon
50 ml / 1.7 fl oz
Hydrate. Perfect. Protect.
Your skin but better.
– Tinted broad spectrum mineral SPF 30
– Defends against sun, pollution & blue light
– Leaves skin naturally flawless
– Superboosted by our OTG-7 Complex  
How to use:
For skin perfecting and broad spectrum protection, apply 3 pumps daily to clean, dry skin or on top of moisturizer for additional hydration.

Use 5 pumps on days with more direct sun exposure and reapply every 2 hours for max protection. Remember to cover SPF blind spots (ears, top of forehead).
Liquid error (sections/main-product.liquid line 535): Could not find asset snippets/icon-unavailable.liquid
Like security for your skin, this sheer, tinted, day serum is packed with our OTG-7 complex, while non-nano zinc oxide gives ultimate UVA and UVB protection.

We've worked hard to formulate this product so that it works with most skin tones and types. The ultimate multitasking heroine, the All-In Day Serum not only has broad-spectrum mineral SPF 30 protection, but it also packs a punch in terms of skincare actives, as well as protecting against pollution, free radicals and blue light. A blendable, sheer tint, you can use it alone to leave skin flawlessly radiant, or it will happily layer under your favorite cosmetics, leaving skin glowing without an oily shine.

"Flawless…are more words even needed? I love this stuff. I have combination skin with an olive undertone. I can get really tan in the summer but it fades and I get really fair in winter months. I love that no matter my coloring the tint is always perfect. It's ultra light, not oily or cakey. Obsessed!" -Ashley B.

Our products are free from synthetic fragrance, synthetic color, harsh foaming agents and parabens
A luminous all-in-one tinted day serum with advanced broad spectrum mineral SPF. Perfects and brightens skin by day while protecting for tomorrow.
translation missing: en.products.product.view_full_details
More ways to use
1
LIGHT COVERAGE CC CREAM

Apply as you would an all-in-one daytime CC or tinted moisturizer for flawlessly protected skin.

2
MAKEUP PRIMER

Apply pre-makeup as a skin perfecting, non-pilling, protective base.
3
ANYTIME REVIVAL

To refresh glow or top up SPF protection, rub in hands and press onto cheeks and forehead. If additional blending is required, apply Refresh & Revive mist onto beauty blender/brush to smooth out application.
You May Also Love
Rise and shine with our AM ESSENTIALS power couple – two multitasking products that make light work of the morning shift.
You May Also Love
Rise and shine with our AM ESSENTIALS power couple – two multitasking products that make light work of the morning shift.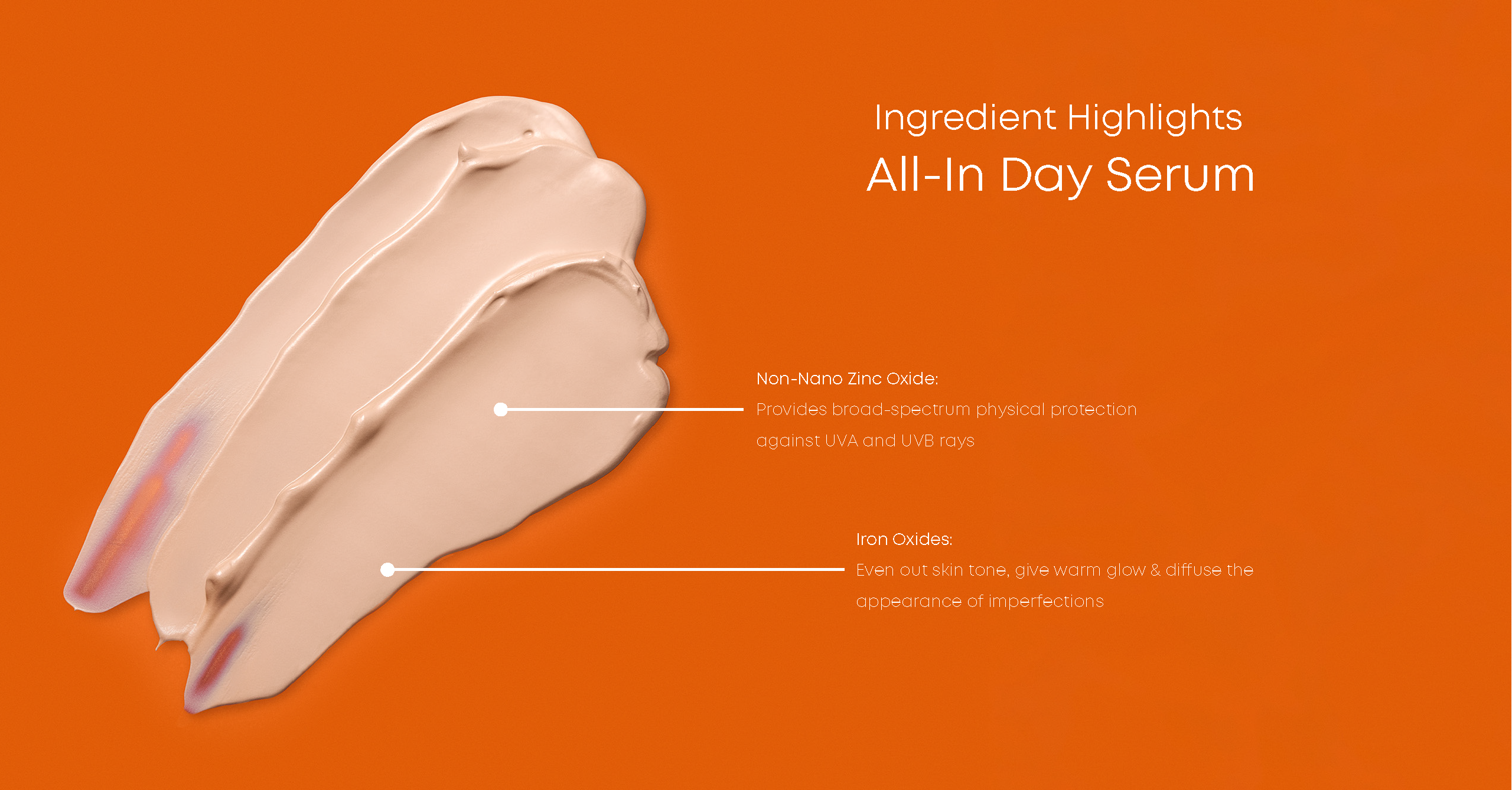 Total 5 star reviews: 13
Total 4 star reviews: 0
Total 3 star reviews: 0
Total 2 star reviews: 0
Total 1 star reviews: 0
100%
would recommend this product
5 Stars

Love this product. Performs and delivers beautifully.

5 Stars

I have spent a lifetime looking for a tinted moisturizer with an SPF that I could actually tolerate wearing... a product that wasn't heavy or oily or goopy or just plain smelled gross. THE WAIT IS OVER! This is the MOST BRILLIANT product I have ever put on my face. Absolute perfection. I am not a big makeup wearer and I cannot wait to get up every morning and put this on for the day. My skin looks healthy with a beautiful glow. HIGHLY RECOMMEND!

5 Stars

I hardly ever use makeup at all (or moisturizer), just occasionally a tinted moisturizer when I go out - which isn't often lately. But after trying this serum and using it every day for a week, I'm definitely going to use it every day from now on! it's SO light, you don't even feel like you have it on, but yet it alleviates the dryness and gives just that little bit of smoothness and soft feel. I'm a fan! Can't wait to try the cleanser that Misty recommended next!

5 Stars

The All-day Serum genuinely the best serum I have found – love the sheer tint that gives an incredible glow. I use it in the morning with nothing else but mascara and lip gloss and feel radiant!

5 Stars

I love it soo much, that I think I am addicted to it! I use it everyday and everywhere I go. Love how smooth your skin looks and the soft coverage it provides. Totally natural!
Reviews Loaded
Reviews Added